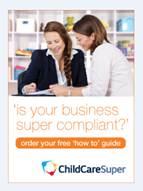 CSA changes name to Australian Childcare Alliance South Australia
CSA has operated with great success for many years but with the ECEC sector now guided by national law, and through our affiliation with the Australian Childcare Alliance nationally, this is an opportune time for all member state associations, including CSA, to change names so that there is a clear link between state and federal associations whilst giving us greater strength and a more unified voice in our advocacy and lobbying efforts.
2015 will bring a new website and strengthened member benefits. All of our operations, including the annual conference and exhibtion will carry the new branding, so please look out for our new logo.
Long Day Care Professional Development Program (LDCPDP)
Productivity Commission Inquiry into Childcare and Early Childhood Learning
The Australian Government has asked the Productivity Commission to undertake a public inquiry into future options for childcare and early childhood learning, with a focus on developing a system that supports workforce participation and addresses children's learning and development needs. The draft report was released on 22 July 2014. The final report has been sent to government but not yet tabled in Parliament.
Read the draft report and view the videos on the Commission's website
ACA Victoria, through ACA, lodged a response to the draft report on 5 September 2014
Amendments to the National Regulations from 1 June 2014
Amendments to the Education and Care Services National Regulations came into effect from 1 June 2014.
On September 10 2014 the Chair of the Standing Council on School Education and Early Childhood, the Hon. Peter Collier MLC, announced the release of the Early Years Workforce Strategy - The Early Childhood Education and Care Workforce Strategy for Australia