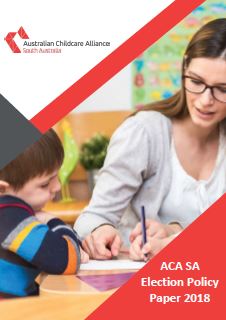 pdf ACA SA Election Policy Paper 2018 Final (922 KB)
In the lead-up to the 2018 SA Election, ACA SA is continuing to have discussions with all parties about our priorities and issues in regard to Early Childhood Education and Care priorities. Our Position paper is attached - please download and feel free to forward this to your local member.
The salient points on which we are seeking urgent responses are:
Early years education for the two years before school
Probationary 3 months prior to Certificate 111 enrolment
1:11 ratio for 3-5 year olds in child care
Oversupply and new child care services
Inequitable imposition of taxes
Chronic shortages of qualified, suitable staff
We need to advance these vital and significant issues to benefit all ECEC services in South Australia.